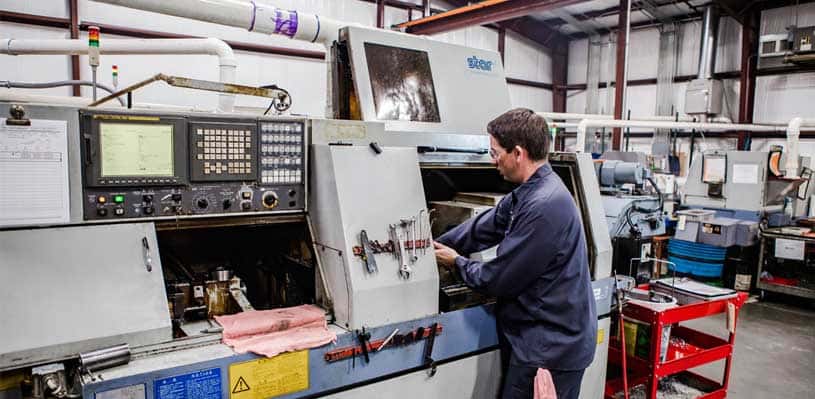 Based in Conway, Arkansas, Jet Machine is a machine shop specializing in Swiss-style CNC turning for the manufacturing of exceptional precision components for critical applications. The versatility of Swiss-type CNC machining fulfills the demand for reliable precision components with intricate tight tolerance dimensions and high-aspect ratio geometries (up to a 20:1 length to width ratio).
Swiss machining is a type of precision manufacturing where CNC unit-operated lathes form produce parts through material removal. What makes Swiss CNC Turning unique is that the turning tools remain stationary while the material rotates and moves in the Z axis (sliding head stock). This results in higher quality through tighter tolerances and almost eliminating deflection. Components can be produced that vary greatly in size, material and quantity. Once the Swiss-style lathe is set up, product can be readily, repeatedly and efficiently produced. No form of secondary machining operations is required. A CNC Swiss-style lathe is equipped to handle up to 13 axes and is capable of turning, milling and threading.
Jet Machine has eight Swiss turning lathes: 3 Tsugami and 5 Star. All Swiss lathes have 12-foot bar feeders. They can run parts with diameters from 0.0625-1.25 inches.
Our standard turning requirements are met by a Miyano Twin Spindle Twin Turret Y-Axis CNC lathe. It can run parts up to a 3-inch diameter and also has a 12-foot bar feeder.
The company's Swiss-style lathes can manufacture products using the following materials:
Stainless Steel
Titanium
Aluminum
Brass
Plastic
And more!
We utilize an Enterprise Resource Planning (ERP) system to oversee all of our operations. The ERP system streamlines our production and increases our efficiency to ensure accountability with the products we manufacture. You can rely on us to consistently deliver the Swiss screw machined parts you need, when you need them, with close-tolerance and with affordability.
CNC Swiss machining is used for these industrial applications and more:
Aerospace electronics and instrumentation
Optical measurement components
Medical and surgical tools and devices
Guidance systems
Watch industry components
Micro computer fittings and connectors
Robotic mechanisms
Fuel systems
Defense systems
Reach us online or give us a call at (855) 450-6352 to find out how our Swiss machining can assist your company with the manufacturing of high-precision parts. We are ISO 9001: 2015 Series Certified. We look forward to meeting your machining needs.